MICROSOFT POWER PLATFORM
Reduce time & cost to build applications that automate processes
Quickly respond to business needs for automation, apps and insights
Reduce the demand on IT & development resources for building business applications
More so than ever organisations are in need of the capability and skill of developers to design and build solutions to meet business demands. 
These demands stem from departments and functions across the organisation with the underlying need being to streamline capturing of information, automating the processing thereof, and being able to generate insights of it to enable decision-making.
The supply of development resources simply cannot cope and meet with the scale of this demand from business. 
Empower business users to create applications, automate processes and insights into data
Citizen developers can fill the gap between the demand for business solutions and supply of developer resources.
Low code & no code applications and portals, workflows, reports and bots can be developed by business users using drag 'n drop functionality, excel functions and wizard functionality.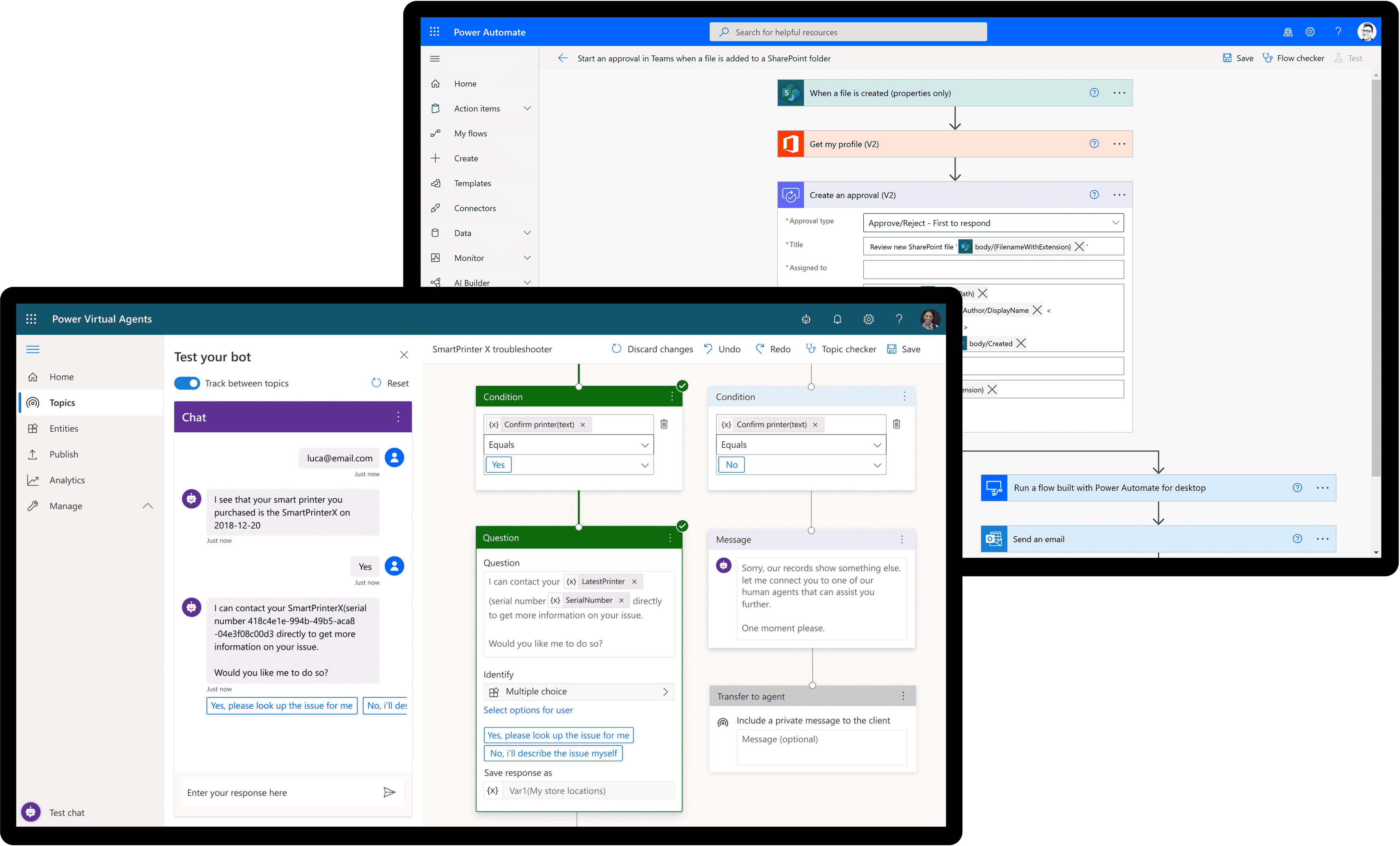 Enable your organisation to be competitive by quickly designing and development apps that reduce cost and enables decision making
Digital interfaces, forms & apps
Insights off business data via reports & dashboards
Always available virtual agents
Automated business processes
Integrated business applications
Powerful Alone, Better Together
The Power Platform is made up of components that can be used in isolation to solve business needs but can also be used together and in combination with the rest of the Microsoft Cloud to deliver end-to-end business solutions
Power BI
Create low-code reports, dashboards and graphs to create visual insights into business data
Create a visual representation using data sources from apps, warehouses, enterprise applications and much more  to inform decision-making.
Power Apps
Build Low-code custom applications that solve business challenges using drag-and-drop capabilities
Infuse applications with workflows automation and AI using Power Automate and AI Builder.
Power Automate
Automate processes by creating cloud-based workflows integrated into Microsoft Applications
Automate user desktop processes and activities using Automate Desktop 
Increase accessibility by integrating notifications and tasks into Teams.
Power Virtual Agents
Create intelligent, AI-powered agents to support and engage employees and customers using natural language.
Use insights and analytics from bot engagements to optimise performance.
Power PAGES
Create  internal and externally facing portals and websites  to service your employees, customers, suppliers and more.
Make use of the same low-code platform to create pages, interfaces, automated processes such as supplier and customer onboarding, user requests  etc.
DECISION INC. POWER PLATFORM APPROACH
How we can help you take advantage of the Power Platform
Decision Inc. understand that each organisation is different in terms of their digital maturity, objectives and needs.
Decision Inc. can partner with you through different engagement models ensuring you get the most value for your money and that your objectives are met.
Through our immersive approach, we help you accelerate your Power Platform development in 4 practical steps:
Real-world scenarios we've developed PowerApps for:
COVID 19 App
Employee Performance Review
Survey Capturing
Travel Booking
Quality Assurance
Site Inspection
Merchandising Insights
Field Work
Request & Incident Management
Financial Reporting
Risk Management
Customer Onboarding
Document Management
Our Power Platform Resources
BLOG | DATA & ANALYTICS10 Reasons why Power BI is right for youA picture speaks a thousand...
read more
Get In Touch
Let us assist you with your Microsoft Power Platform Journey
Waterfall Corporate Campus, 74 Waterfall Drive, Waterfall City